Shambhala Australia Online Weekthun Retreat 1-8 January 2022: Smile at Fear: Awakening the tender heart of bravery
January 1 @ 5:00 pm

-

January 8 @ 2:00 pm

Australia/Melbourne

AUD 120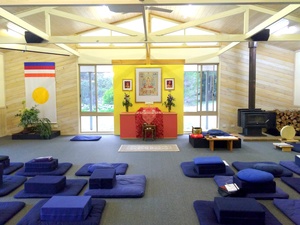 with Shastri Loretta Geuenich & John Rockwell
Contact person: Jeff Herd
Shambhala Australia Community Practice Gathering
Online weekthün retreat 1-8 January 2022 on Zoom
'Smile at Fear: Awakening the tender heart of bravery'
A one-week retreat – called a weekthün – is an introduction to and deepening of the mindfulness-awareness meditation technique. Retreat practice transforms how we relate to ourselves and everyday life by allowing us to get to know and connect more fully with our mind and body, and the world around us.
In the midst of the incredible challenges of this year it is tempting to respond by distracting ourselves through busyness or constant entertainment, or to numb out to the realities we face.
Practicing meditation is instead a moment-to-moment decision to turn toward our experience. By training in opening to ourselves and our world – and cultivating curiosity, bravery and gentleness toward whatever we find – we discover possibilities even in the midst of challenge.
We begin to contact a quality of basic sanity in ourselves and our world which is available when we slow down and pay deeper attention.
From this point of view, meditation is not a tool to fix ourselves or improve our abilities. Rather, it is a direct path to connecting with our fundamental wisdom, and the inherent intelligence and warmth of the bigger world with whom we are a part.
When we open to ourselves and our world, we are more able to respond skilfully to the challenging situations we face, and also appreciate the brilliance of our shared existence.
At home alone together
We will keep a traditional retreat schedule, including Buddhist chants, sitting and walking meditation, dharma talks, one-on-one conversation with a meditation instructor, silence practice, and body practices such as personal stretching and walks outside.
This retreat will also incorporate opportunities to connect with each other through informal catch-ups (cuppa chats).
Although this retreat is being offered online, we will include opportunities for offline practice within an ongoing retreat container.
We also recognise that many of you will be participating in retreat within households which are not in retreat. We will therefore limit instruction, dharma talks, and most interactive elements of the program to the morning and afternoon session, to accommodate people who need to re-enter their household in the early morning or evening.
To make the best use of the retreat, it is recommended you have a quiet space to go online and to meditate – either in a chair or cushion. Having an uncluttered space, perhaps with some flowers or other uplifting things, will assist. Planning ahead and getting enough food in for the week will be helpful. A good internet connection and a stable device will also be helpful.
Where possible, please consider minimising non-retreat device use. This is a wonderful opportunity to have a holiday from everyday distractions.
Following registration, we will offer more information about how to effectively engage in the online retreat environment and create a conducive situation in your home.
Some things to consider regarding online retreat
During an online retreat we are more 'on our own' in our own space than in an in-person retreat. To create the best possible retreat experience, we would like everyone to be aware of a few things. Our approach to your well-being during the retreat is "supported self-care".
You will be given a daily schedule each morning via email.
The Day Coordinator will be the primary point of contact for communication (email and text). We will have a dedicated Health &Wellbeing staff person. You will meet all staff and hear about their roles on the first day.
We will be asking that participants let us know if they need to leave or skip a session.
If you are struggling in some way during the retreat, either physically or mentally, it will also be good to let us know so we can see how best to support you. We will aim to respond to any support requests promptly, and certainly on the same day.
You may wish to share your intention to do the retreat with a local/available buddy. In the event of needing someone to talk to, reaching out to a buddy can give you some support during the week alongside staff.
It is also important to know that this retreat is based on Shambhala and Tibetan Buddhist teachings and is not intended as a substitute for therapy. Following registration, you will be forwarded a questionnaire. Included in this questionnaire is the suggestion that if you are currently in therapy, you consult with your therapist about your attendance.
Do I have enough experience?
This retreat is mainly designed for meditators with some experience of retreat and/or experience of Shambhala training. That said, we realise that many people wish to experience retreat practice and may be ready in other ways.
The questionnaire following registration will ask for information your meditation and retreat experience. People new to retreat practice and/or Shambhala training will be offered a preliminary online session in December with one of the teachers and other staff to outline what you can expect and ask questions. People in this category are requested to register or advise of their interest by 1 December.
If you would like to discuss your situation, please contact Jeff Herd at [email protected]
Sample Schedule (times are Australian Eastern Daylight Time)
7:00am Early Morning Practice Session and Chants
8:00am Breakfast
9.30am Morning Practice Session/John Rockwell talks
12:30pm Lunch
2:30pm Afternoon Practice Session
5:30pm Dinner
7:00pm Evening Practice Session and Closing Chants
8.00pm End of Day.
The first day – I January, 2022 – will be a short early evening session, beginning at around 5pm. On the last day, 8 January, we will finish in the early afternoon.
Materials for the retreat
The recommended reading for the retreat is Smile at Fear by Chogyam Trungpa (Chapters 1-8). (Available in hard copy and as an e-book). If you have difficulty in accessing this book, please contact Jeff Herd at [email protected]
Teachers
Our teachers will be John Rockwell and Loretta Geuenich.
John Rockwell's bio, from his website, is:
"I have been on the path of dharma for 45 years. My inspiration is to open my heart and senses on the spot, receive the richness of the natural world, and share the profound teachings I have received. …
I met Chögyam Trungpa Rinpoche in 1975 and studied and practiced the Buddhist and Shambhala teachings for twelve years with him, and in particular worked with him on translating Tibetan texts into English. For ten years, I studied and taught at Naropa University in the Buddhist Studies department. For many years, I served as an acharya or senior teacher for Sakyong Mipham Rinpoche and also studied intensively with Khenpo Tsultrim Gyamtso Rinpoche. I have practiced Taoist qigong for 12 years with Eva Wong, who has authorized me to teach.
I now live in Nova Scotia with my wife, Rhiannon. I have a daughter, Karuna, and a step-son, Julian."
John will be joining us for several talks in our mornings.
Loretta Geuenich, based in Adelaide, has been involved with Shambhala since 2001, and was authorized as a teacher in 2013. She has been a student of Sakyong Mipham Rinpoche since 2008. Her role as a teacher is to support and help develop the local practice and education situation in Australia.
Pricing and timing of registration and payment
There are three tiers: please choose the one that best suits you.
Full fee: $120
Concession: $80 (for people who are full-time students, on pensions/health care cards or on low income).
Pay what you can – no one will be turned away.
Please pay by Electronic Funds Transfer (EFT) payment to our bank account. If EFT is not possible, please contact Jeff Herd at [email protected] to work out an alternative.
Account Name: Shambhala Melbourne
BSB: 033 126
Account Number: 450219
Please use your first name 22 as the payment reference, eg Allan22.
Payment is required by no later than 10 December unless other arrangements have been agreed.
If your circumstances mean that you need to decide about attendance later than this date, please advise us by 10 December so we can plan for your possible attendance.
Registration
After you have registered, we will contact you by email for more information about your meditation practice and any health conditions that might affect your participation, and then send you further information closer to the retreat, including the zoom link.
In the meantime, for queries regarding the program, please contact Jeff Herd at [email protected]
Other cost options (see details on registration page)
CAD 80